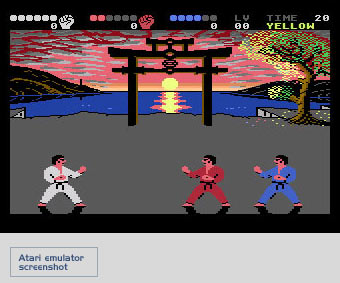 Previous versions / Poprzednie wersje

Following zip files contains IK+ exe (or com) file for Atari XL/XE emulator and some technical information in Polish.
Poniższe linki zawierają kolejne wersje IK+ wraz z opisem zastosowanych procedur i zmian - spakowane zipem.

Ikp_0270.xex - Unpublished build [December 2009] - 74 kb

Ikp_0212.zip - Files + info [May 2008] - 78 kb

Ikp_0174.zip - Files + info [April 2006] - 64 kb

Ikp_0103.zip - Files + info [March 2005] - 66 kb

Ikp_0102.zip - Files + info [February 2005] - 65 kb

Ikp_092.zip - Files + info [July 2002] - 24 kb

Ikp_082.exe - 41 kb

Ikp_081.exe - 41 kb

Ikp_076.exe - 40 kb

Ikp_007.com - 17 kb

Ikp_006.com - 15 kb

All versions by Pawel Rosowski (ikplus_NO_SPAM@poczta.onet.pl)

You can also download IK+ music and procedure information in Polish (txt file).
Z tej strony możesz również ściągnąć muzykę z IK+ i opis procedur.
Music - zip (sid, ym) file
Procedure information - zip (txt) file (Polish)


Direct downloading / Ściągaj bezpośrednio:

http://uce.pl/ikplus/download
For those who have problems with exploring the site.
Dla tych, którzy mają problemy z oglądaniem tej strony.



Latest version

Ikp_0284.xex - 74 kb [October 2010]
Ikp_0284.atr - 94 kb (boot, both by Paweł Rosowski)

Build 0284:
1. Added gong and ball sounds (for 'deflecting balls' round).
2. Introduced NTSC compliance. It required disabling dolphin and double-bird background animations when music is on.
3. Corrected tempo of sound track (removed irregularities existing in original C64 player).
4. Keyboard handler temporarily enhanced for sound testing (keys B, G, F).

Build 0270:
1. Added sound track.
2. Slightly modified keyboard handler.

Functions of keys:

Background screen:
N - Toggles night/day mode. Replaces changing sky and water color schemes which are in C64 version.
R - Changes ripples (sun reflections) color scheme. Slightly different then in C64 version.
W - Changes waves behaviour (4 possible algorithms). Exactly like in C64 version.
Q - Turns spiders animation on. Off by default. After pressing Q the next animal is always a spider.
E - Sets short time period between background animals. Default time period is longer. Switch not available in C64 version.

Sound:
S - Toggles sound effects on/off.
T - Toggles sound track on/off.
V - Toggles high/low volume of sound track.
B - (temporary) Fires ball sound.
G - (temporary) Fires gong sound.
F - (temporary) Increases gong's frequency.

Other:
D - Fires falling trousers.
Space - Pause. No way out of this state yet!
If key is pressed together with Control then corresponding switch is being turned off or set to default value.
Gameplay did not change. Press START to continue fight when it stops. Continuation possible up to 20000 points. In NTSC mode fighter animation is slower. Turning music off helps a little.